The Almost Willie Archived Almost Monthly Newsletters
APRIL 2008
April - hanging out with our friends at dodge city rv park in Alvarado , Texas. this is where we hang our hat while we are in this part of Texas!
First, April finds us at niece's home, Debbie Jean's - signing up with new health product ADVCARE - we're trying to get healthier....good people, great product... now we are distributors for the product....can't say enough about ADVOCARE...terrific! Call me if you want to feel better!
Next biggie- we are re-formatting our website & this project should be completed by first of June! We scheduled an appointment with our Web Host, VIRTBIZ in downtown Dallas - drove there in a raging, blinding rain storm - one of the worst ever!! Scary driving!! We had borrowed a small car and found ourselves wading through rivers of water across the highways & streets of downtown Dallas. Mercy - drenched to the skin just trying' to get from the car to the door of VirtBiz! We were delighted to meet Anita VP of Sales. After talking with her for months over the phone for advice & assistance with our web site...now, we ask you, how many web host companies can you call & hook up with the same person 9 out 10 times?? We can! We ALWAYS are able to resolve ANY issues at ANY time - they are the finest web hosts anywhere - ever! We can only say thank you Anita for all you've done for us!! You're the best!!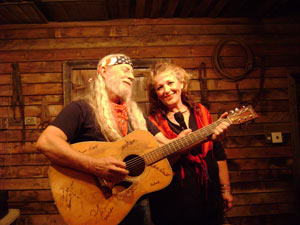 Next, we made a music video produced while performing with the No 1 band in all of Texas that we call the "Whiskey River Band" - a really great bunch of musicians! Soon WE WILL have this project done too!
Oh yeah...Texas Roadhouse will never be the same after we stopped for a bite - we had them all fooled think I was "Willie" coming to check on the employees! Had em' all jumpin'!! Yum - those rolls....gotta be the best in all of Texas..ate least half dozen ...that's before our meal! ...great food, great times...great pics...will be posting soon!
Then....we've had numerous shows in between & all the other "stuff" that keeps Almost Willie on the road...see our tour schedule for all those great places!
Oh yeah, was personally invited by our dear friend Production Manager Betty Jackson, a member of AFI, to attend the (American Film Institute) in Dallas. I was invited to appear in an animated children's video...later performed the following week for Last Call Ministries in The Colony, TX. Met many of the "biggies" in the film industry this evening & had myself quite a wonderful time!
And this is a goodie....was invited to a Ft. Worth Police Dept function with graduating class of recruits - whoa, a lot of "Almost" cops!! I was on my best behavior!! Taking pics with everybody!!
Great April - see ya'll in May!! God Bless you all! Almost, Ms Kitty & Roadie.....on the Road Again!!