The Almost Willie Almost Monthly Newsletter
Here's our almost monthly newsletter page... to keep all our fans updated & informed - where we have been & what's happening!..and where we're headed...our adventures!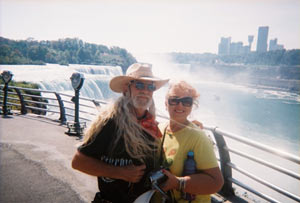 Ah, Almost & Ms Kitty - Niagara Falls, New York
JULY 2008
Coming Soon!
JUNE 2008
Yep, it's spring time in the rockies.....big blue skies that turn into dark thunderclouds & rain by mid afternoon to early evening...makes for iffy shows outdoors...but somehow the skies held off for most of those early evening shows...now we head up the highway now on 1-90 towards Big Timber,...ah Big Timber, wonderful friends Carol & Ellis had a great crowd from town & all the KOA campers...in spite of the T-storms, we were tucked dry inside & had a blast!
Thanks Brian & the boys for fixing our fuel line leak!!! We might not have made er' much further! Then to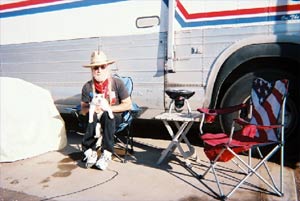 Bozeman...Almost hadn't been here since 1965 when he was assistant manager for FW Woolworth...that was the modern day Wal Mart back then...our thanks to Robert & Leslie of the Bozeman KOA, you really shine even in a windy & cool evening performance... Arnold & Terry in the KOA Butte...great in the Mining Town of MT.....but found ourselves in snow country in June...brrrrr... at the top of Homestake Pass, elev over 6300 feet and cold!!!!.We're putting on extra clothes, blankets & turned on the heaters full blast as fast as the snow was fly'n!! But this is spring in Montana!! That's why we left Ft Worth, Texas a month ago when it was 94 degrees & sizzling...and sure enough, it's 40 here!!
Oh yeah, Butta KOA have the best chicken anywhere - and homemade pies!! guaranteed!!! So now it's time to head up to Deer Lodge, MT for the Almost Willie Show with our good friends at Deer Lodge KOA. They may be the very best KOA in the family of KOA Campgrounds ...they may be the smallest but they have the biggest hearts!! Mo & Cass & Work Campers Jerry & Nancy from Fla..even held .had a parade for us through town June 6th...& the sun was shinning & warm on our shoulders - finally! Big doings in this fine lil' Montana town ...big BBQ & the MT Fiddlers showed up to add to the festivities of the evening....Mo & Cass are the greatest & they sure do know how to put "on the dog!...the best Hawaiian Baked Beans, Burgers & homemade desserts were to die for.....you gotta visit these fine folks in Deer Lodge!! - you will enjoy every minute-guaranteed!! We rocked the Rockies!!! In the rain or in the sunshine Almost sang "Blue Eyes Cry'n in the rain" giving it a whole total new meaning...folks came from far & wide with umbrellas & rain slickers!! Just like a Willie concert!
Thanks to Bob at the Antique shop for taking our pictures while on Parade! sorry he couldn't make it to the party, but the barn must go up! Anyway, just can't say enough about our friends Mo & Cass....we want to especially thank them too for a great send off breakfast the morning we left...ham & farm fresh eggs, hot coffee....it was to die for! Especially on a chilly June 6th misty rainy morning!!Thanks Mo & Cass - we know when we stay with you we're "ohana" so for now! Aloha friends, until next year!!
MAY 2008
We had some great shows early in the month too - found ourselves at the Mike & Judy Osborne place in Springtown, TX for his grand daughters wedding - SWEEEEET! what a fab day - sunny & 75 degrees made for an awesome outside event..... Nothing like smoked BBQ - Texas Style! Thanks Mike for a grand time-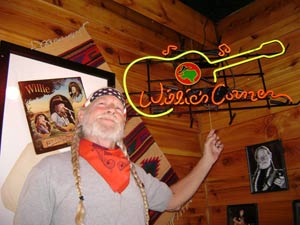 your fine Texas hospitality was really welcomed! Loved meeting "Samie" - keep up the "Hubba-Hubba dialogue - he may catch on sometime! Oh, while in Springtown, we were in luck to have caught up with ol' friends Johnny & Roxie from Late Start Farms - was grand catchin' up on ole times! Thanks for takin' us out for a great supper!! Attended New Hope Baptist Church & celebrated Ole Fashioned Days - their church began why back in 1875 - they sure did dress up for the occassion - Preacher Jim included! The food was delish & music was ol' time gospel - - was a great day - thanks!
Groan!!- the diesel fuel soaring prices seems to keep us held hostage - (like everyone else in the country)- talk about hemorraging at the pump! We're past the pain now - it's just that awful numb feeling...is it ever gonna get any better we keep asking?? We have seen it jump double over last year - this is pure insanity if you ask us!Where & when will this insanity at the pumps stop?? If you have the answers please email or call us!!!
Our show at Happy's Electric in Alvardo, Texas was a fun time! An old fashioned fish fry & lot's of good fiddle's was a real treat ....meeting new fine down home folks is always fun - Texas Grand!!! Thanks "Happy" for fixin' the air spring bag replacement - our bus rides a whole bunch better - is nice & level going down the road - thanks to you!! Yo Mama makes the best Apple pie - go granny go!!!
Spent a Sunday waltzing about downtown Ft. Worth at the Stockyards... sayn' Howdy ya'll to friends & fans while hav'n a cool one at the White Elephant...a sunny & bright spring day - couldn't have been any nicer!! Almost bought Ms Kitty a lovely pair of pretty silver earrings for her upcoming birthday - what a nice surprise!! He is so sweet this guy!! Keeps a big smile on Ms Kitty's face for sure!!
Our good friends in Aubrey always know how to party....Almost Willie Style !! - we sure did enjoy ourselves at the Baron's Goose Ranch party - you be the man Mike with all the those 200 noisy but great look'n geese! We spent a couple days there at the Goose ranch getting ready for Saturday May 10th - celebrat'n some birthdays & a special 10 year anniversary of Brad & Margaret Hines of Aubrey. Boy was it a scorcher - 94 & HOT!!!! Glad a cool breeze came up that evening!!!
Now, you see Brad Hines is a special friend & a auto/truck/bus/tractor mechanic extrodinare!! (He can fix ANYTHING! !) He is the last of a rare breed & if you need any mechanic'n done - you need to see Brad at Brad's Automorive out on Hwy 377 in Aubrey....he'll have you back on the road in no time!! Be sure to ask for the $.50 museum tour - it's a must see tourist attraction right there at Brad's Automotive....then there is our fine friend Steve Coombs Pharmacist Owner of Community Pharmacy right there in Aubrey - who co-sponsored the big 3rd Annual Hine's party - what a guy! Thanks for the drugs Steve! Party on Dudes until October when we'll do er' up again - Willie style of course!
Mother's Day found us touring about in Brad Hines' 73' Cadillac - what a thrill to enjoy such a luxury ride! We found our way to a thriving flea market then on to some really grand Mexican food..although I wouldn't recommend that fish you ordered Brad! The beer was cold & food zesty & made for a fab day - then off we toured over by the Texas Woman's University - Margaret's Nursing College - where we toured the lovely grounds & chapel - right where Brad & Margaret said "I Do" 10 years ago May 10, 1998...was a very special place....beautiful Chapel with it's custom crafted stain glass artistry ....to the rose gardens....it was lovely indeed!
While in the area we visited & parked our Tour Bus at the Willbanks Paso & Paint Farm Pilot Point, Texas - what a terrific place they have! Good friends Robert & Susie indeed - with some of the most gorgeous awesome Paso's & Paints we've ever seen & ridden ! The mares with their new babes was a special treat! Of course, our dear friend "Captain" Rick kept us good company - thanks "Cap " Rick for a great time! YOU'RE THE BEST!
Good friends from Arizona taveling back from a vacation out in Florida found us to visit while in Aubrey....was great seeing HT & Berle again...safe journey dear friends! Great seeing ya! We'll see ya next winter in Arizona!!
Ms Kitty celebratin' another birthday May 14th - no big deal right??!! Well ,that's a big maybe!! But, was reminded that women age like fine wine - we just get better with age! Ah, gotta love it!! yep, gotta embrace what God has blessed you with each day! Dined out to the Bayou Cafe - Cajun style eat'n - out on Hwy 380 near McKinney, Texas...frog legs, catfish, shrimp & dessert and a great frozen margarita....hee-yaw! We celebrated big time & had ourselves a wonderful evening !! Brother Daryl & family of Montana called & had sent Ms Kitty one of those musical birthday cards....with the music "can't touch this...what a hoot! We are still laughing every time we open the card - even our "roadie" cat loved hearing it & tried to figure out where "the people" were inside that sing'n card! While Willie was visitn' Joey's Bar talking with Andy about his second grade class, Ms Kitty enjoyed a Spa Pedicure at the Luxury Nails & Spa of Aubrey, Texas...was great & sooooo relaxing - we suggest everyone have a luxury day at the this Spa!
Mid May finds us now traveling North towards Montana - had a fun show at the Wagon Master's RV Park in Sanger, Texas...with our fine Host & new friends, Harold & Jan...what a night to remember! Our "Roadie" cat "almost" got away from us - dashed off the bus so quick - want'n to chase bugs & birds!! A grand time was had by all!!! And yes, we retrived our "Roadie" cat thankfully after a quick romp across the lawn...he had to strech his "paws" after a long day travel'n....and yep, we'll be proud to have another "Almost Willie" show for you & guests when we're back in October! See ya'll then - enjoy the new "Almost Willie" Sauce, ya hear?!
We're blessed each day with a sound runnin' Tour Bus and - meeting great people & making new friends....this is just the middle of May my how time is flying by...driving across on Highway Texas 287 - is especially beautiful in the Spring with carpets of wild colorful flowers covering the roadsides....why, my guy even stopped & picked me some pretty posies for my birthday!! Whatta guy!!
Spent one night at Wal-Mart in Childress ,Texas....where we met some more fine folks the Jones Family & Edward the Trucker.... Woke up to hear the melody song of the beautiful Meadowlark - ah, Spring in Texas.....thanks Wal-Mart for a good nights zzzzz! We're pressing onwards now to Amarillo....so we'll have more updates soon from our travels ....God Bless you all! Almost, Ms Kitty & Roadie...On The Road Again!!!
Here we are at Ft. Amarillo RV Resort in Amarillo Texas- a beautiful park & one of the nicest rec halls that we've had our show - with a big red barn for a back drop, it was just like the Grand Ole Opry! Some of the nicest folks you'll ever meet! Thanks again Ft Amarillo for your warm hospitality! Next night we played for campers at the KOA Amarillo.
Leaving Amarillo we're driving north on Hwy 87 headed to Raton, New Mexico was brutal - the high winds hit us hard but we pushed our way up the road to New Mexico...diesel....diesel....and more diesel...we could almost see the $$$ bills coming out the tail pipe! Passed a few stations with $4.89 pg, we didn't stop....Now we've Raton....We stayed with the fine folks at Raton KOA - Grant & Lisa, their chirldren Laura & Brandon & Mom Judy... our hosts were absolute angels! Almost was interviewed live on KRTN radio with Billy, a great DJ - we gathered a HUGE crowd for our 7 pm show! The family & staff and all the campers & friends at this KOA made for a fun fab show on Monday May 27th...why even the Mayor Joe Apache & his wife attended....a splendid time, one we won't soon forget!!! Thanks too for the great picnic BBQ & ice cream social -(it was alll yummy!) it was a grand bright & sunny Memorial Day! Almost enjoyed playin'g "To all the girls I've loved before" for Judy, Lisa'a Mom...God Bless you all! We'll be seeing ya'll next year! If you ever have a hanker'n for chili - you will want to meet our new friend Guy Salano...he has the best chili fixin's anywhere right here in Raton! You can order them from him at 505-445-0949 or email him guysolano@msn.com - he'll fix ya right up!
Driving now headed north on I-25 through Trinindad Colorado where the clouds hung in a mist in the early morning and was real cool only about 50....brrrrr! We've been used to Texas heat! Bring out the sweatshirts! Pressing on now into Pueblo, Co and staying with some more new fine KOA friends, Michael & Carolyn our Host and their fine staff Kitty & Bil....and a fine crowd gathered near sunset with with Rocky Mountains as our backdrop. We want to thank them too, for a wonderful evening of fun, food & music! ....oh and the next best thing was NBC crew, Allen & Sharon videoed the entire show! Smiles! We hope we didn't break the camera!! We certainly have enjoyed our stay here too! Nice sleep'n cool weather here too!
We are headed just a short jaunt up to Colorado Springs now on Wednesday May 28th...have the night off! Yeah right....another show for our friends at KOA! What a wonderful night for a show!! Great new friends! We're off now to see Craig & Heidi owner/managers at the beautiful Lakeside Ft Collins, Colorado KOA....another fine KOA with lots of new friends! Another jaunt up the interstate 25 on our into Wyoming....windy, warm & green with Antelope in sight everywhere....stopped in Kaycee for a picnic lunch!!
Beautiful sunny fair skies as we traveled below the snowy Rocky Mountains....wound up in Buffalo Wyoming at another fine KOA the last day of May... Thanks Cathy to you & your wonderful staff & great campers for another fine show!! And the blueberry pancake breakfast was to die for!!!
....end of May now Headed into Montana now we're in Hardin for another night at the KOA with Ken & Sandra - a little windy but the town came out & enjoyed an old fashioned ice cream social & the Almost Willie Show!
Ah, another month on the road....has been fab weather through Wyoming & Colorado..and now Montana! yee-haw
ARCHIVED NEWSLETTERS
We know you folks want to read just as much about Almost Willie as you can. To keep this page from getting too long for you to want to wade through, we have set up an "archived newsletter" page where we put the newsletters that are over 3 months old. Click on the link below to see those newsletters.