The Almost True Story of Almost Willie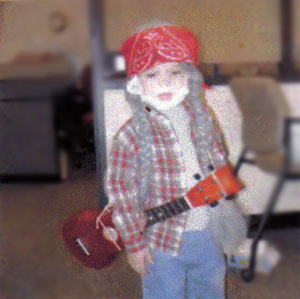 Tom Bradshaw was a funeral director for 14 years and a county coroner for four years…he needed a change. So he started selling cars and growing a beard. But there was still something missing.
He was invited to a Halloween party in 1985. Someone suggested that he add a little white to his beard and go as Willie Nelson. He did and he WON the contest for best costume – Almost Willie was born! Tom finally found his place as the No 1 Willie Nelson Tribute Artist in the Country!
Now, after 23 years of impersonating Willie Nelson and a great deal of hard work, Almost Willie gigs have taken Tom to the Virgin Islands, Sturgis, Billy Bob's, The Nashville Palace, The Opryland Hotel, Michigan State Penitentiary and more than 7,500 other interesting places.
Almost Willie's dream was not to be too famous…and so far, his dream has come true. Performing in lounges, county fairs & festivals, country music shows, casinos, resorts and advertising, the Almost Willie Show has grown into a captivating 75-minute show that includes such all time favorites as "Whiskey River", "Good Hearted Woman", "Blue Eyes Cryin' in the Rain," "Seven Spanish Angels," "On The Road Again," " To All The Girls I've Loved Before," plus "Ridin' on the City of New Orleans,"….and many more!
At Farm Aid IV in Indianapolis, he was mobbed by autograph-hunting fans who felt Almost Willie was close enough – while the real Willie was performing on stage. This happens frequently when fans refuse to believe the two are not the same. Farm Aid V was in Dallas and brought him first prize in the Willie Look-alike Contest. In 1989, Almost Willie went to Fan Fair was asked to man Nelson's booth. While this was a real thrill for Tom, Fairgoers were really excited! You could see the amazement and disbelief on their faces upon learning that Tom was not Willie. In 1990, he branched out on his own in the IFCO booth and wound up on the front page of the Nashville Banner. Shortly after Fan Fair, People Magazine ran a photo of Almost Willie in its two page spread covering the country music get-together.
Being the entertainer that he is, Tom Bradshaw loves to please the crowds. Fans marvel at the resemblance to the "real thing" and enjoy favorite Nelson songs that are sung just for them. To keep things from getting too serious, Tom manages to maintain his perspective on what he does with following parody sung to the tune of "Blue Eyes Cryin' in the Rain;"
"If you came to see Willie Nelson,
I'm afraid you've made big mistake
I'm not Willie, I'm just Almost
He's the real thing……….I'm a fake!"
When Tom talks about his future, he says, "There is nothing in life I would rather be doing than entertaining people with "Willie gigs." Thanks to all his fans all over the country and their enthusiastic support over the years. It looks like Almost Willie will continue to be a crowd pleaser wherever he goes.
Almost Willie can perform at your next event! Contact him today to reserve your special date!